100 Years of Gibbs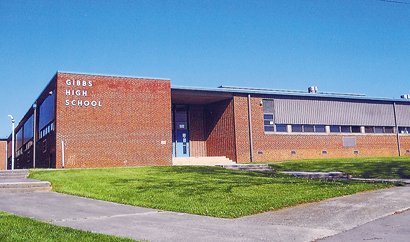 It is the heartbeat of Harbison's Crossroads.  Before one even reaches the campus of Gibbs High School, there are historical landmarks in the Gibbs Community.  Traveling toward Corryton on Emory Road is the Nicholas Gibbs log cabin.  Going toward Halls is the home of the late Neva Gibbs Cardwell, the first grade teacher at Gibbs for 47 years.  It was her father, O. S. Gibbs, for whom Gibbs High School was named.  O. S. Gibbs, a descendant of Nicholas Gibbs, was a Knox County School Board member and one of several who donated land for the high school.  Neva was in the first graduating class at Gibbs in 1915.
"What is it About This Place?
It is the small, rural school steeped rich in history.  It is a thriving 1,000-plus student body, though the school has burned twice.  It is Friday night football in the Ernest Whited Stadium.  It is the award-winning Kenny Chesney and "The Boys of Fall."  It is a 100-year-old Gibbs graduate and former teacher named Acuff.  It is twin teachers from Gibbs named Cardwell.  It is Bob Barker saying, "I appreciate getting to grow up in a place like Gibbs where we had good neighbors and everybody knew everybody."   It is musicians named Butler, Clapp, Hunley, and  Leadbetter.  It is a race car driver named Trevor.  It is a dentist named McGinnis who left to serve in other places and another named Davis who practiced here at home.  It is a Hall of Fame Coach named Sparks who reignited a football program.  It is memories of basketball teams winning games in an old gym and new memories being made by younger generations in a new gym.  It is a University of Tennessee department head named Luttrell and an engineer named Greene.  It is the bright lights and sound of baseballs batted across the diamond at Hunley Field.  It is Doyle Satterfield sharing memories of growing up on the property that the Gibbs Branch of Home Federal Bank sets on today and remembering "a time when everyone that drove by your house on a Sunday afternoon would honk their horn and wave if you were sitting out in your yard."  It is people leaving the grounds of Gibbs and taking a part of "this place" with them as they go forth to serve their country in the military.
On May 24, 2013, people will have an opportunity to come back to "this place" where it all started as Gibbs High School celebrates its 100th Anniversary.  A reunion and social time is scheduled for 5:30 to 7:30 p.m. followed by a celebration program at 7:30 in the big gym.  The speaker representing the "past" is Archie Johnson (Class of 1962).  Archie is a former basketball player who married his high school cheerleader sweetheart and Gibbs graduate, the former Ann Oakes.  Ann's family is widely known for the beautiful Oakes Daylilies.  Her mother worked for Corryton dentist, the late Dr. W. R. Idol.  The Oakes and Johnson families have a long-standing presence with Gibbs.  Archie's mother attended Gibbs, his father graduated from Gibbs probably in 1925, and Ann's parents were Gibbs graduates as well.  The Johnson's son, daughter, and grandson are Gibbs graduates, and their granddaughter is a Gibbs freshman.  Archie summed it up best, "our family roots run deep."
Gibbs Principal Lynn Hill (Class of 1978) will represent the "present."   I think it is special that a Gibbs graduate is the current principal for this 100th Anniversary!  Lynn thinks it is unique that two of the former principals combined for nearly 50 years in Gibbs' 100-year history:  Max Clendenen from 1954-1977 and Jerry Sharp from 1977-2000.  I remember Lynn's siblings, Gibbs graduates Benjie (Class of '71), Sheree (my Class of '72), and Stacey (my brother's Class of '75).  One story Lynn likely will tell is how, as a little boy, he would be waiting on the school bus and wave to Mr. Clendenen, the principal, each morning as he traveled down Emory Road in his Volkswagon!
Gibbs sophomore and class president Elizabeth Longmire will be the speaker representing the "future," but her last name immediately links her to the past, also.  Elizabeth and her twin sister, Caroline, are the granddaughters of Gibbs graduates and high school sweethearts Joe and Becky Longmire.  The Longmires are a long-standing family deep in the heart of Corryton.  The twins' parents are Gibbs graduates as is their great-grandmother Longmire who is now 93-1/2 and graduated in 1936; her mother graduated from Gibbs in 1919!  Becky was a teacher/librarian at Gibbs for over 30 years.  Joe is the co-owner of Midway IGA and President of the Nicholas Gibbs Historical Society.
Memorabilia will be on display, such as the first yearbook in 1927 which sold for $1.00!  T-shirts, a commemorative stamp, and a sketch of the school will be available for purchase.  The Alumni Choir will perform that evening; they will begin practice on May 6 at 6:30 for those who wish to participate.  Donations will be accepted to go toward refreshments, signage, and chair rental and may be sent to Lynn Hill, Principal, Gibbs High School, 7628 Tazewell Pike, Corryton, TN 37721.  For more information about this event, visit www.gibbshs.knoxschools.org or the GHS facebook page.  (Historical data is from "Gibbs Community History," by Gibbs graduate and former teacher, the late Emma G. Dunn.)