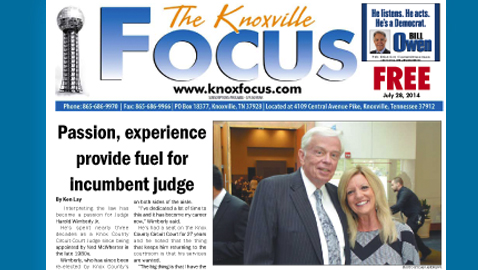 Click here to view this week's Focus.
Passion, experience provide fuel for incumbent judge
By Ken Lay
Interpreting the law has become a passion for Judge Harold Wimberly Jr.
He's spent nearly three decades as a Knox County Circuit Court Judge since being appointed by Ned McWherter in the late 1980s.
Wimberly, who has since been re-elected by Knox County's voters, four times, is up for re-election in 2014 and he has plenty of support from politicians on both sides of the aisle.
"I've dedicated a lot of time to this and it has become my career now," Wimberly said.
He's had a seat on the Knox County Circuit Court for 27 years and he noted that the thing that keeps him returning to the courtroom is that his services are wanted.
"The big thing is that I have the respect of the legal community and the lawyers who come in here," he said. "They have the confidence in me and the thing that keeps me going is that people want me to.
"People want me and that's a great feeling."
Wimberly may relish the opportunity to interpret the law but he said that he realizes that merely wanting to be a judge simply isn't enough.
"It can't [only] be what I want to do," he said. "People have to want me to do it," said Wimberly, a Democrat and Knoxville native who graduated from West High School, the University of Tennessee and the University Of Tennessee College Of Law.
He's been on the court for nearly three decades and has earned the respect of the lawyers who come before him on a daily basis because he's experienced and fair. He also realizes that nobody ever wants to go to court.
"People trust me and it's like I tell the lawyers, 'I'm sorry that we have to come here. But this is what we do,'" Wimberly said. "You want to do it [serve] for them.
Wimberly said he didn't accept the seat for personal recognition. He's a longtime Tennessee Volunteers football fan and equates his position to that of a sports official such as a referee or an umpire.
"This is not about you," he said. "It's about the lawyers and people who come in here. I am like a referee and the best referees are the ones that you don't notice.
"Our job is to call the balls and strikes. When you see the highlights on Sports Center of a contest, you don't want people talking about you. But at the same time, you want the people directly concerned about this to have confidence in you and know that you will do a pretty good job."
Wimberly also noted that experience has been his best teacher. He also noted that his opponent lacks the experience of serving on the Knox County Circuit Court.
"I've had the respect of the lawyers and the legal community for all these years," Wimberly said. "To understand this, you have to be in it.
"The guy running against me has no experience in this area of the law but he says that he's 57 years old and he needs a job."
Wimberly has been endorsed by politicians (both Democrats and Republicans), media outlets and by members of the legal community. Those are all meaningful backings but recently, Wimberly obtained an endorsement from one of his childhood football heroes.
Former University of Tennessee football star and football coach Johnny Majors has endorsed the judge.
Majors has the name recognition that carries big weight in Knox County.
"When you get an endorsement from your childhood hero, it's great Wimberly said. "I remember, even though I was a little kid, seeing Johnny play.
"You can always share stories in terms of sports because sports is big, especially around here."