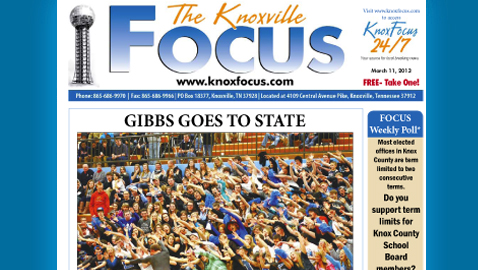 Click here to view this week's Focus online.
Gibbs uses improbable comeback to make State
By Ken Lay
Gibbs High School's boys basketball team found itself in a familiar place early last week.
The Eagles were down big in the fourth-quarter of a Section 1-AA final. But like they've done so many times before, the Eagles used an improbable comeback to notch a 54-53 victory over Elizabethton on Monday, March 4 before a packed house in Corryton.
"This was almost too big of a hole to come out of. But we've been there before," Gibbs coach Timmy Meade said after watching his team improve to 25-8 and punch its ticket to the Class AA State Tournament in Murfreesboro this week.
Tournament play opens Wednesday but pairings weren't set at press time.
Gibbs advanced to last week's sectional round by winning close games and erasing deficits along the way.
"The last three games that we played helped us win this game tonight," Meade said. "This game shows a lot about our character.
"It shows a lot about our character as people, not just as basketball players."
The Eagles will make their first trip to the State Tournament since 1987. Gibbs might have rallied in its final home game of the season but early on, it appeared that the Cyclones (25-8) would earn their way to Murfreesboro.
Things were close out of the gate. Elizabethton opened a 9-5 lead by the end of the first quarter and the teams slugged through an even second frame and the Cyclones led 18-14 at halftime.
The third quarter belonged to Elizabethton as the Cyclones went on a 24-11 run after halftime and opened a 42-25 lead when Zeke Clark hit a 3-point shot as time expired in the frame.
Elizabethton extended its advantage to 45-25 when Zach Norwood converted an old-fashion 3-point play as he was fouled on a successful field goal attempt and made the ensuing free throw with & minutes, 39 seconds left in the game. That appeared to put the contest out of reach.
But neither the Eagles nor their faithful fans lost hope.
"The support that we got from our fans was unbelievable," Meade said. "When they got down, our fans didn't leave."
The crowd never waned and they were rewarded as senior point guard Aaron Corum took control of the game.
Corum scored 14 of his game-high 29 points over the final eight minutes and made a pair of free throws with 24.5 seconds left. Those foul shots would provide the final margin.
"It felt good [to hit the game-winning free throws]," Corum said. "I was a little bit nervous but I knew we had it in us. We have eight seniors and we're all really close and we all play well together.
"I knew that we could win the game when we were down by three with a minute-and-a-half left."
Senior forward Jay Cade said Corum has been a difference maker for the Eagles all season.
"We need Corum," said Cade, who finished with 12 points. "We rally around Corum."
Meade echoed his forward's sentiments.
"Jay Cade is an all-around great player but our team goes as Aaron Corum goes, for some reason."
Cade said the Eagles' State Tournament berth was a long time coming.
"This is just amazing," he said. "I've been waiting for this since I was in the eighth grade."
While Corum and Cade shouldered much of the offensive load, they received some timely help from Hunter Hopson and A.J. Rucker. Rucker finished with seven points and hit a third-quarter 3-pointer that pulled the Eagles to within 28-22 with 3:27 remaining in the third stanza.
Hopson scored all six of his points in the fourth quarter and had a 3-point play with 1:35 left to trim the Cyclones' advantage to 51-48.
Also in Section 1-AA: Fulton clinched a trip to Murfreesboro with a 56-50 victory at Sullivan East.
Brody Stone scored 14 points to lead the Falcons (23-8) to a victory and State Tournament berth. Micah Goss scored added nine points and freshman Kentel Williams finished with eight for the Falcons, who won in a hostile environment.
In Section 1-A: Grace Christian Academy overcame an early deficit to defeat Hampton 71-65 in last week's sectional play.
The Rams (23-10) fell behind 19-7 early but stormed back with a 14-7 surge to take a 21-19 over the Bulldogs.
"Our kids played their guts out," Grace coach Matt Mercer said. "That was a great high school basketball game.
"It was awesome. It was like a scene out of Hosiers, when we pulled in at 5:30 there was a line out the door. There wasn't a seat in the house. It was standing room only."
The Rams weren't intimidated by the big crowd. Grace went 10-for-20 from beyond the 3-point arc and used a balanced scoring attack to win and advance to this week's State Tournament.
Luke Shepherd and Matt Holland scored 18 points each for Grace, which led 35-31 at halftime. Trey Stewart added 14 points and Tanner Hill finished with 10. Kobe Kelley added nine.
Grace led by as many as 13 points in the second half and withstood a late run by the Bulldogs.