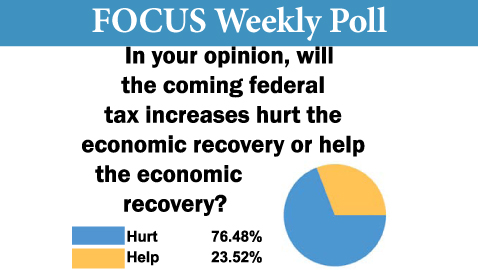 By Focus Staff
Knox Countians don't believe an increase in Federal taxes will lead to an economic recovery.  This week's Knoxville Focus poll asked the question, "In your opinion, will the coming federal tax increases hurt the economic recovery or help the economic recovery?"
The only district where voters believed an increase in taxes would help the economic recovery was the First District, which is centered around Knoxville's African-American community.  Just of 54% of respondents believe more taxes will help with an economic recovery.
Only residents of the Fourth District, which includes Sequoyah Hills, came close to agreeing with voters in the First District, with just with 37% saying they believe increased taxes will help with the economic recovery.
In the Second, Seventh, Eighth and Ninth Districts 80% or better of likely voters feel increased taxes would be hurtful to any economic recovery.
Click here to view the full results.