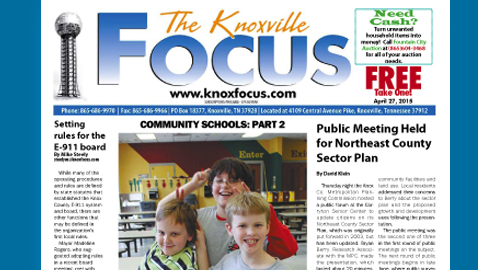 Community Schools 2: Christenberry Elementary
By Sally Absher
sallyabsher@knoxfocus.com
As part of our series on Community Schools, we had the opportunity to visit Christenberry Elementary Community School (CECS) and meet with the Community Schools Site Coordinator Tiffany Davidson earlier this month.
This is the second year CECS has been a part of the Community Schools program under Great Schools Partnership. Community Schools are a strategy for aligning community resources for student success, family health and neighborhood safety.
In partnership with the Christenberry Recreation Center, which is immediately adjacent to the school, CECS operates Monday-Friday from 2:45-5:00 p.m.  Students have the opportunity to participate in enrichment opportunities and clubs, including Wrestling Club, Reading Club, STEM Scouts, Joy of Music, Zumba Kids, Gardening Club, Art Club, programs through Knoxville Track Club, and more.
CECS is located on Oglewood Ave in the Second District. It is an ethnically diverse elementary school. According to TN.gov/education, approximately 56.5% of the 550 students are White; 27.8% are Black or African American; 14.7% are Hispanic or Latino, and the remaining 1% are Native American or Alaskan. Nearly 10% are English language learners (ELL) and nearly 90% are economically disadvantaged. Students with disabilities comprise 20% of the student population.
We asked Davidson, "Why Community Schools?" She said,"We feel that with 90% economically disadvantaged students, this gives us the green light to know that there are resources that our families need, but there may be barriers or obstacles to where they cannot obtain those resources. We use our school as a hub to bring resources into the school to better accommodate our families."
She said that the Site Coordinators meet with the steering committee (made up of teachers, parents, and community members) to figure out how to best meet the needs of the students and families. An example of a resource a community school can offer that a regular public school cannot include on-site case management therapy through Helen Ross-McNabb Center. She said they can help families get through the "red tape" to get the services they need.
Programs for parents are still in the planning stages, although there are 'circle of parents' support groups meeting regularly. Davidson said one of her goals for the summer is to try to build up the parent component – educational classes, enrichment activities, GED, resume workshops, etc.
Davidson was involved at Christenberry as a campus manager with Project Grad before it became a community school. In summing up community schools, she said, "There is a cycle we need to break. How do we do that? By bringing resources, community members, community volunteers into the school, to meet the needs of our families, and fill that void."
Since CECS has only been in the Community Schools program for two years, it is difficult to track long term changes and trends in achievement. According to the TN Department of Education's Report Card, TCAP achievement grades have improved from Ds and Fs in 2012 to Bs and Cs in 2014. And Value added scores have also increased, from Cs, Ds, and Fs in 2012 to As in math, reading, and science and a B in social studies last year. TVAAS composite scores at CECS were all 5s last year as well.
But school is about so much more than test scores. When we visited CECS, we found the campus and school building teeming with kids absorbed in a variety of activities. We visited the Reading Club, where first grade teacher Ivy Stubbs was sitting comfortably in a rocking chair in one corner of the classroom. She was surrounded by a dozen or so children listening intently as she read them a story about a puppy that wanted a boy for Christmas. We knew this was something special when the kids didn't even look up at the intruders in their classroom!
Next we ventured to Stem Scouts, where Lou Contini and Rhyan Preyer were guiding an energetic group of kids in making robots. They attached a small motor to the bottom of a plastic cup, and then taped three markers to the open end of the cup. When they turned the cup upside down (markers resting on a sheet of paper underneath) and turned the motor on, a colorful pattern of circles soon emerged on the paper.
We stopped by Art Club, where students were preparing to make tie-dye shirts. Art Teacher Jessica Stewart suggested we come back in ten minutes or so, once the project was underway. In the meantime, we went over to Christenberry Recreation Center to check out the activities there. On the way, we passed by the Courtyard, provided by Home Depot as a community project. Students help maintain the area.
The City of Knoxville website describes Christenberry Recreation Center as "one of the City's largest recreation centers, featuring a large dance studio, full-sized gymnasium, arts and crafts room (complete with a kitchen), and a fully-equipped weight room."
We passed through kids playing basketball in the gym, into the main Rec Center building. We went to the arts and crafts room, where students were clustered in groups building Legos and playing board games and other activities. Christenberry  Recreation Center Director Cindy Greene spoke to us enthusiastically about community schools, and the various way that she sees them helping kids, families, and the entire Christenberry community.
Greene is passionate about Community Schools as a better alternative to vouchers and Charter schools. Christenberry is not in danger of being classified as a Focus school – those in the bottom 5% of schools in the state. Yet, families of kindergarten and preschool children in the Christenberry zone received a letter from Emerald Academy earlier this year, informing them "You Have a Choice – Emerald Academy!" We believe that CECS is a better choice.
As we finished our visit, we circled back to Art Club, where the kids were now busy squirting colored dye onto folded and twisted t-shirts. CECS is a happy place. Our legislators should plan a visit when they are back in town.