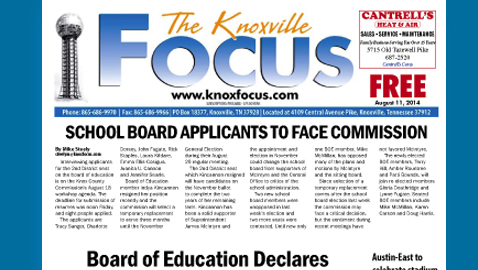 Click here to view this week's paper.
School Board applicants to face Commission
By Mike Steely
steelym@knoxfocus.com
Interviewing applicants for the 2nd District seat on the board of education is on the Knox County Commission's August 18 workshop agenda. The deadline for submission of resumes was noon Friday, and eight people applied.
The applicants are Tracy Sanger, Charlotte Dorsey, John Fugate, Rick Staples, Laura Kildare, Emma Ellis-Cosigua, Juanita U. Cannon and Jennifer Searle.
Board of Education member Indya Kincannon resigned her position recently and the commission will select a temporary replacement to serve three months until the November General Election during their August 25 regular meeting.
The 2nd District seat which Kincannon resigned will have candidates on the November ballot to complete the two years of her remaining term. Kincannon has been a solid supporter of Superintendent James McIntyre and the appointment and election in November could change the school board from supporters of McIntyre and the Central Office to critics of the school administration.
Two new school board members were unopposed in last week's election and two more seats were contested. Until now only one BOE member, Mike McMillan, has opposed many of the plans and motions by McIntyre and the sitting board.
Since selection of a temporary replacement comes after the school board election last week the commission may face a critical decision, but the sentiment during recent meetings have not favored McIntyre.
The newly elected BOE members, Terry Hill, Amber Rountree and Patti Bounds, will join re-elected members Gloria Deathridge and Lynne Fugate. Seated BOE members include Mike McMillan, Karen Carson and Doug Harris.