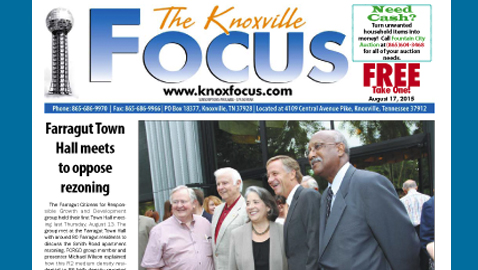 Overflow crowd at Botanical Garden Welcome Center
By Mike Steely
steelym@knoxfocus.com
More than two hundred people, including current, future and past elected officials, attended the dedication of the new Welcome Center Friday at the Knoxville Botanical Garden and Arboretum.
Anna Ford, Interim Executive Director, welcomed the large audience by noting that Governor Bill Haslam's Tennessee Promise had spurred 31 volunteers to work in the gardens. Knoxville Mayor Madeline Rogero, who said that all former living mayors were present, said the facility would be the Center for Urban Agriculture in the city. She also noted that the gardens were the oldest continually operating business in the county.
Knox County Mayor Tim Burchett recognized the history of the grounds and applauded the community for "saving greenspace."
"I can't be more proud of our city," Governor Haslam said, adding, "The state is pleased to be a part of this."
The Welcome Center will host events, greet visitors at the gardens, and have a gift shop. Ford said that about $1,150,000 has been raised of the needed $1,450,000 funds. She also said that plans are underway to restore the old Mule Barn located within the grounds of the 47-acre public garden.
The Knoxville Botanical Garden and Arboretum was founded in 2001 to save the property and sponsors various events during the year. The 6th annual  Green Thumb Gala fund raiser is planned for Sunday, October 4th and "Fall into Fun" is set for Saturday, October 24th.
The Garden is located at 2743 Wimpole Avenue and can be reached by calling (865)862-8717.