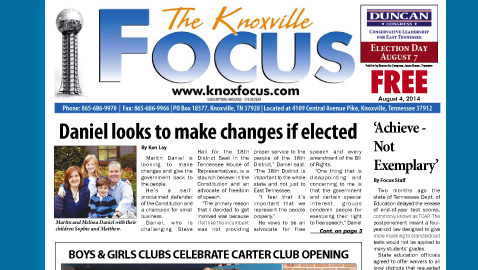 Click here to view this week's Focus.
Daniel looks to make changes if elected
By Ken Lay
Martin Daniel is looking to make changes and give the government back to the people.
He's a self-proclaimed defender of the Constitution and a champion for small business.
Daniel, who is challenging Steve Hall for the 18th District Seat in the Tennessee House of Representatives, is a staunch believer in the Constitution and an advocate of freedom of speech.
"The primary reason that I decided to get involved was because I felt like the incumbent was not providing proper service to the people of the 18th District," Daniel said. "The 18th District is important to the whole state and not just to East Tennessee.
"I feel that it's important that we represent the people properly."
He vows to be an advocate for free speech and every amendment of the Bill of Rights.
"One thing that is disappointing and concerning to me is that the government and certain special interest groups condemn people for exercising their right to free speech," Daniel said. "The First Amendment was designed to protect all speech, not just nice speech.
"I will be an advocate for free, speech and the Second Amendment as well as the third, fourth, fifth and sixth."
Daniel also vows to be an advocate for business.
"You have non-elected people making laws and since 2009, 750 agency rules have been passed. They've increased fees and paperwork," Daniel said. "We need a clearing house for oversight of these agencies to see if all these things are necessary for small business or any business.
"If you send me to Nashville, we're going to change all that."
Daniel, who is a business man and an attorney, told The Focus that he's ready to go forth and serve if that's what the people want.
"I'm a father, a husband, a small business man and I have the skills of an attorney," he said. "I have all the skills necessary and I'm ready to go to Nashville if the people want to send me.
"I'm grateful for all of the support that we've gotten and we've got a little momentum going and we're looking for a positive result on Thursday."
Daniel is the Majority Owner and General Manager of Elevation Outdoor Advertising, LLC and he also works at the company's General Counsel.
He and his wife Melissa reside in Rocky Hill. The couple has two children. Sophie is eight and Matthew is six.
Matthew is afflicted with Duchenne Muscular Dystrophy and that has prompted Martin to found a non-profit charitable organization Defeat Duchenne. The organization continues to raise money for research.