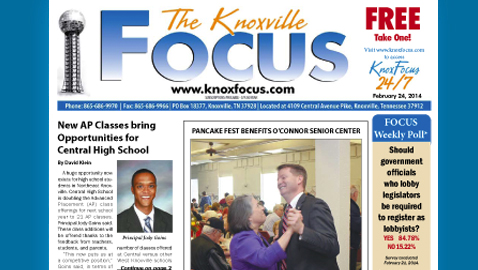 Click here to view this week's Knoxville Focus.
New AP Classes bring Opportunities for Central High School
By David Klein
A huge opportunity now exists for high school students in Northeast Knoxville. Central High School is doubling the Advanced Placement (AP) class offerings for next school year to 21 AP classes, Principal Jody Goins said. These class additions will be offered thanks to the feedback from teachers, students, and parents.
"This now puts us at a competitive position," Goins said, in terms of number of classes offered at Central versus other West Knoxville schools such as Bearden and Farragut. "It puts us in the top five in Knox County (number of offerings). We firmly believe in equity access. We believe the same offerings that are available to those students should be offered to us as well."
Currently, there are 147 students taking AP classes at Central High School. For the 2014-2015 academic year, there will be 450 prospective students.
The scheduling for these AP classes will be built around student interest. "We will always accommodate the interest that exists for courses," Goins said. "Everything we do is driven by student interest."   Students prepare for these AP classes through college prep classes, Goins said . For a student to place out of a freshman equivalent class in college, they must score at least a 3, 4, or 5 on the test at the end of the course. "Studies have shown that there's a long-term benefit to your high school success rate and your college-going success rate if you take an AP class," Goins said. "We wanted to give our students every opportunity to be successful," he stressed.
One of the more popular AP classes at Central is AP U.S. History, Goins said. Dr. Michael McDaniel teaches AP U.S. History and AP U.S. Government at Central. McDaniel said he has seen the number of students taking these classes grow.
"Three years ago in my AP Government and Economics class I had six students.  In AP History, I have 35. In AP Government and Politics, we started out with 50," McDaniel said.
When it comes to beginning the AP classes, McDaniel said many students are shocked at the work load. "The culture shock of the first two weeks, a lot of the students say, oh, I don't know if I can do this. But once they get through that culture shock, I think they like the opportunity to be challenged in those areas. We don't want them to quit too readily or too soon."
Emily Wise, a Central High School sophomore, is in McDaniel's AP Government class and enjoys it. "It was a lot different," Wise said. "With the AP class, it is a bunch more work. You really just have to get through it and be determined and finish it off," she added. Wise thinks she may take two more classes AP classes next year, AP US History and AP English 3.
"A lot of what we do (in AP Government)," McDaniel said, "is the reading analysis and the critical thinking, making the connections between government as it was founded and government today and the differences between the two, cause there is a huge difference."
Anywhere from 15-25 teachers will be teaching these 21 classes and teacher feedback has been positive. "Our teachers are ecstatic about the rigor involved in offering an AP course," Goins said. "Our teachers are really excited for our students in that hey, there are a lot of benefits that students can capitalize and leverage on in taking an AP class, both in short-term and long-term."
Goins said the AP teachers will have an opportunity to teach college-prep classes as well, but, "their primary objective initially, will be on building and developing the AP course," Goins said.
When it comes to the parents, Goins said they are excited about the offerings and can say, "Hey, our high school offerings are now comparable to offerings in other high schools."
The effort to bring more AP classes to Central has been a recent one. "This has really been a conversation we had this year," Goins said.
Both McDaniel and Goins believe in the benefit of AP classes to students. "Most of us believe that every student should sign up and take at least one AP class just so they understand the complexity and difficulty of taking a college level class before they get to college," McDaniel said.
Goins said another benefit is that students can get through college quicker by passing AP classes and exams and potentially saving some money on tuition by graduating sooner. "Long-term, you can narrow down your four year degree and trim that down to 3 ¼-3 ½ years," Goins said.
Part of why Goins feels so passionate about the AP classes is that, "I didn't have the opportunity to take A.P. courses in high school, courses weren't offered."
If he were a student, Goins would take AP U.S. History, AP European History, and AP Human Geography.
Central is making strides toward college preparation, and Goins feels excited about the changes. "It's truly a historic moment for us. It's just really a time for excitement and celebration for our students because these are opportunities that are rare not only in Knox County but across our state and across our region, and we feel really good about being able to offer these courses to our students."