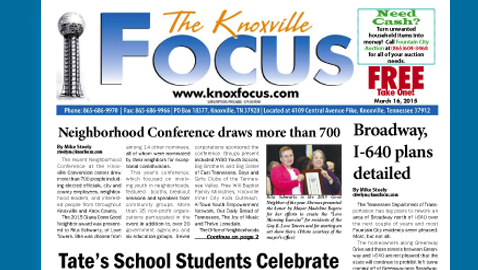 Broadway, I-640 plans detailed
By Mike Steely
steelym@knoxfocus.com
The Tennessee Department of Transportation has big plans to rework an area of Broadway north of I-640 over the next couple of years and most Fountain City residents seem pleased. Most, but not all.
The homeowners along Greenway Drive and those streets between Greenway and I-640 are not pleased that the state will continue to prohibit left turns coming off of Greenway onto Broadway. It may be a safety issue but it's inconvenient for those residents.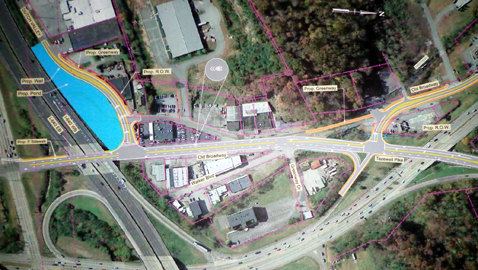 Greenway Drive is a narrow road that stretches from Broadway to Washinton Pike. The neighborhoods along the drive are hemmed in by a ridge to the north and I-640 and the railroad to the south.
Many Greenway Drive area residents attended the Fountain City Town Hall meeting held last Monday to voice their frustration. Several of the Greenway Drive residents and other attendees asked about an alternative route for their neighborhood to access south Broadway.
Carlene Malone of Fountain City Town Hall spoke up on behalf of the Greenway residents, saying they "have suffered greatly."
Mike Johnson, a Greenway area resident, said that there are no connecting streets and asked if there was a solution.
Michael W Russell, project manager with TDOT, told them that the "no left turn" and barrier there was a decision by the city and the state.
Russell used project maps and a video of simulated traffic flow to help illustrate the changes that will be happening.  The plan includes reworking Old Broadway and four lanes on part of southbound Broadway, placing a much longer exit ramp onto eastbound I-640, and a new ramp from I-640 onto northbound Broadway.
Expanding the ramps will necessitate the removal of some commercial buildings between Greenway Drive and the interstate. The TDOT plans also show improvements on Old Broadway as it connects with I-640 and moving Addison Street off Greenway Drive a bit east to make room for the entry loop proposed for northbound Broadway traffic to enter the interstate bypass and rerouting the eastern end of Dutch Valley Road where it connects with Old Broadway.
The state is finalizing right of way purchases now and construction, once it starts, is estimated to take 24 months or longer, with traffic maintained along Broadway during the rebuild.
Kathy Jennings-Johnson said neighborhood residents concerned about the plans and the continuing "no left turn" policy at Greenway and Broadway should organize to change the plans.