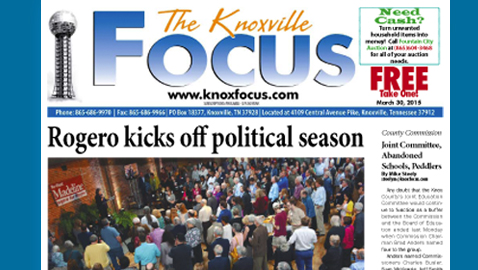 Rogero Kicks Off Political Season
By Mike Steely
steelym@knoxfocus.com
Knoxville Mayor Madeline Rogero kicked off the political season as she announced her intention to run for re-election Tuesday. Rogero, the first female to be elected as mayor of a larger city in Tennessee, drew a packed house of members of both political parties at The Standard on Jackson Avenue.
The election for mayor and council is non-partisan although Rogero is widely known as an active Democrat. Local Republicans are searching for a candidate to oppose her. The primary is September 29th and the city's general election is November 3rd. Early voting starts September 9th.
Rogero's crowd included most of the City Council members, volunteer workers, city workers, and both Republican and Democrat citizens.  Rogero told the gathering that Knox County Mayor Tim Burchett had dropped by to wish her well. She told the near 700 people present that she hopes to continue the programs she began.
The city election will also see the election of the three At Large seats currently held by George Wallace, Marshall Stair and Finbarr Saunders. The Fifth District seat, now held by Mark Campen, is also on the ballot as well at the election of the Municipal Judge. All three At Large members attended the mayor's kick-off campaign event.
The Knox County Election Commission confirmed that all the current city council members have picked up qualifying petition, along with Jennifer Mirtes, who may oppose Campen in the 5th District.
Rogero, a county commission member from 1990 until 1998, also served and Director of Community Development for two years and opposed Bill Haslam for mayor. After Haslam was elected he appointed her as Community Director. Haslam was elected Governor and Councilman Daniel Brown was selected by the council to serve as Knoxville's first black mayor until Rogero was elected to the top city position.