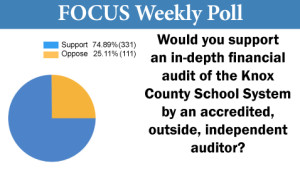 By Focus Staff
This week's Knoxville Focus poll asked the question, "Would you support an in-depth financial audit of the Knox County School System by an accredited, outside, independent auditor?"
442 Knox County voters responded and quite nearly 75% of those polled answered in the affirmative. Only a quarter of those polled said they would not support an independent audit.
Support for an independent audit was almost identical amongst women and men. Every age group favored an independent audit as well.
The greatest support for an independent audit came from the Seventh and Eighth Commission districts, with more than 80% of voters supporting such an idea. The Ninth District, based in South Knoxville, registered nearly 77% of voters in favor of an independent audit.
The Fourth and Fifth Districts saw the least support for an independent audit, yet almost 70% of voters in the Fourth District favored the idea, while just over 66% in the Fifth liked the notion.
Click here to see the poll's breakdown.