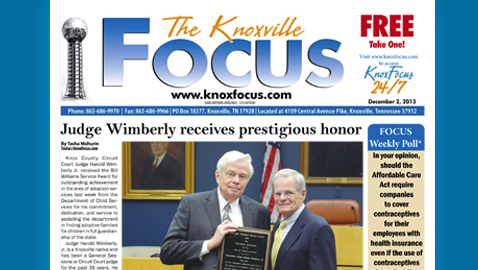 Please click here to view this week's paper.
Judge Wimberly receives prestigious honor
By Tasha Mahurin
Tasha@knoxfocus.com
Knox County Circuit Court Judge Harold Wimberly Jr. received the Bill Williams Service Award for outstanding achievement in the area of adoption services last week from the Department of Child Services for his commitment, dedication, and service to assisting the department in finding adoptive families for children in full guardianship of the state.
Judge Harold Wimberly, Jr. is a Knoxville native and has been a General Sessions or Circuit Court judge for the past 39 years. He graduated from West High School and attended the University of Tennessee and the University Tennessee College of Law. Wimberly went on to serve as a General Sessions judge from 74'-78'. He was later appointed by former Governor Ned McWherter to circuit court clerk and has been re-elected to that position four times.
During his tenure as a circuit court judge, Wimberly became passionate about adoption. He has overseen 584 adoptions- which led to 1,000 children being placed into homes. It is for his unwavering commitment to children that he was recognized with the Bill Williams Service Award.
"He's passionate about seeing children placed into loving, forever homes," Wimberly's long time clerk, Judy Moore, told The Focus.
In his spare time, Wimberly loves to travel and has been an avid photographer for the past 20 years- documenting his travels throughout the United States and Europe. He is married and has one son, who is also a lawyer.
The Focus congratulates him on a job well done in the service of local children.