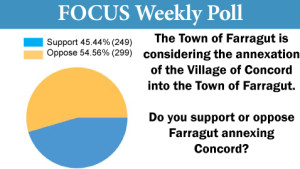 By Focus Staff
Farragut Mayor Ralph McGill has said he would drop plans to annex Concord into the Town of Farragut if there was serious opposition.  This weeks' poll by The Knoxville Focus asked likely voters in Farragut and Concord the question, "The Town of Farragut is considering the annexation of the Village of Concord into the Town of Farragut.  Do you support or oppose Farragut annexing Concord?"
The answer was a decisive "no."
Almost 55% of those polled said they oppose Farragut's proposed annexation of Concord.  45% of voters said they support the idea.
Voters in the 30-49 age range proved to be more supportive of the idea, with just over 53% supporting annexation.  As the voter base aged, the results were quite different.  Voters aged 50-65 were more opposed to the idea of Farragut annexing Concord by almost 58%.  Seniors were opposed to the annexation by almost 55%.
Slightly more men than women were opposed to the idea, with just over 57% of males disapproving of the proposed annexation.  A majority of women also disliked the idea of the Town of Farragut annexing Concord, albeit by a smaller margin of roughly 53%.
Click here to view the full results.