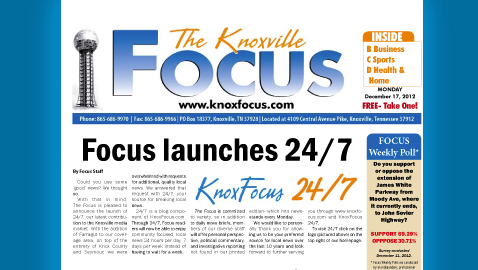 Please click here to view this week's entire Focus.
Click here to view photos from the Seymour Christmas Parade.
Focus launches 24/7
By Focus Staff
Could you use some 'good' news? We thought so.
With that in mind, The Focus is pleased to announce the launch of 24/7, our latest contribution to the Knoxville media market. With the addition of Farragut to our coverage area, on top of the entirety of Knox County and Seymour, we were overwhelmed with requests for additional, quality local news. We answered that request with 24/7, your source for breaking local news.
24/7 is a blog component of KnoxFocus.com. Through 24/7, Focus readers will now be able to enjoy community focused, local news 24 hours per day, 7 days per week instead of having to wait for a week.
The Focus is committed to variety, so in addition to daily news briefs, members of our diverse staff will offer personal perspective, political commentary, and investigative reporting not found in our printed edition- which hits newsstands every Monday.
We would like to personally thank you for allowing us to be your preferred source for local news over the last 10 years and look forward to further serving you through https://www.knoxfocus.com and KnoxFocus 24/7.